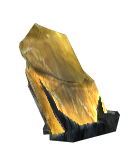 "
Jen, this is an Energy Fountain. I can draw vital energies from it. Vital to your survival.
"

– Scree
Energy Fountains are large crystals projecting from a base on the ground. Scree can summon energy from them, energy which Jen can summon from him in turn. Energy Fountains are non-renewing. Each can supply about one full refill of Scree's energy storage. They can be found in each of the Four Realms, as well as the Nexus.
Ad blocker interference detected!
Wikia is a free-to-use site that makes money from advertising. We have a modified experience for viewers using ad blockers

Wikia is not accessible if you've made further modifications. Remove the custom ad blocker rule(s) and the page will load as expected.