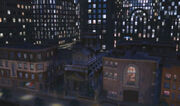 Mortalis is the place where Jen and Lewis are from, the "real" world. Belahzur used his power to abduct Lewis from Mortalis whilst the two exited the Nexus nightclub. Having been injured in the process, the next scene in Mortalis shows Jen in the City Hospital.
Locations Featured in Mortalis
Edit
This is also the first time that we see the character of Scree, perched upon a building near the Nexus nightclub, overlooking the events about to take place that lead up to the game.
Ad blocker interference detected!
Wikia is a free-to-use site that makes money from advertising. We have a modified experience for viewers using ad blockers

Wikia is not accessible if you've made further modifications. Remove the custom ad blocker rule(s) and the page will load as expected.