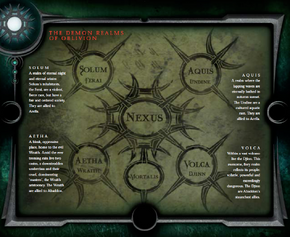 Oblivion is a dimension where the four demon realms exist.
The energies from these realms flow into the Nexus, where balance is sought between the forces of Order and Chaos. The Nexus also connects them to the physical realm of Mortalis. 
Ad blocker interference detected!
Wikia is a free-to-use site that makes money from advertising. We have a modified experience for viewers using ad blockers

Wikia is not accessible if you've made further modifications. Remove the custom ad blocker rule(s) and the page will load as expected.