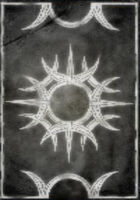 Tarot cards are collectable items in Primal.
Description
Edit
Elemental correspondences between Tarot cards, the Four Elements, cardinal directions, etc.
The Rift Gates to the Elemental Realms are set at the four cardinal points of the compass, as follows
North - Aquis - water - Symbol in the Nexus is a trident
South - Volca - Fire - Symbol in the Nexus is a bowl of fire.
East - Aetha - Air - Symbol in the Nexus is a Spike
West - Solum - Earth - Symbol in the Nexus is a "u" shape, wiht tips curved to the right.
The game gallery of the tarot cards has the first column as pentacles, second as cups, third as swords, fourth as wands.
Roman numerals are the numbers assigned to that card in the Major Arcana. The Fool is assigned a number of zero. There is no Roman numeral for zero.
The Tarot Deck
Edit
Ad blocker interference detected!
Wikia is a free-to-use site that makes money from advertising. We have a modified experience for viewers using ad blockers

Wikia is not accessible if you've made further modifications. Remove the custom ad blocker rule(s) and the page will load as expected.